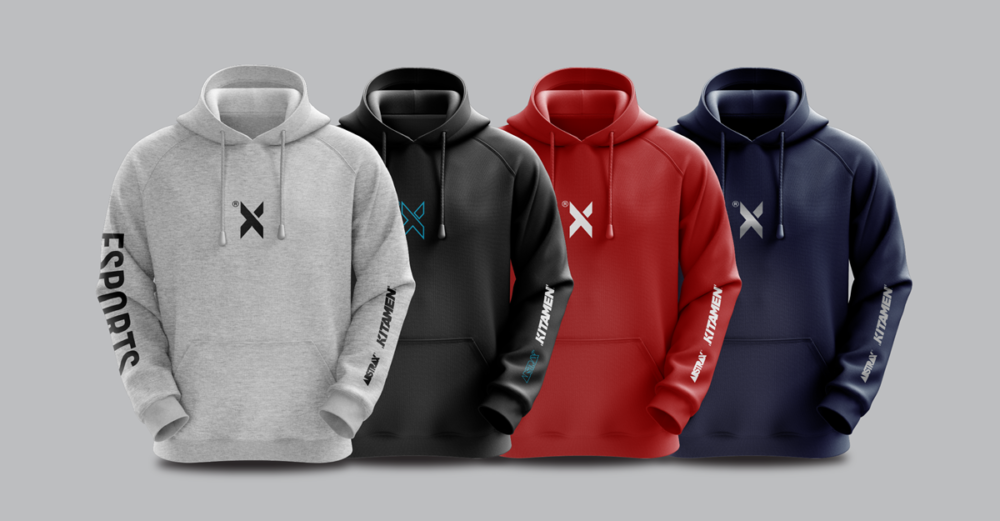 Product Name:  Abstrax Dekad X Hoodie – KITAMEN ESPORTS EDITION
Colours: Neon Black, Red, Misty Grey, Navy Blue
Price: RM130
Where to get: abstrax.kitamen.my
Rating: 5 out of 5 (Must have!) ⭐⭐⭐⭐⭐
When I heard of the new release, I just had to check it out.
Kitamen is one of the leading Esport brands in Malaysia and having organized a lot of events over these years, they are sure to give back to the players anything new and awesome looking.
When I received a call to meet in the HQ, I was blown away by the new Esports Hoodie release.
Its fresh, its new, and it's sassy.
At that moment in time, all I could think of is to get back to the office and start writing (Before I start forgetting the good parts) so without further ado, I present to you my full hoodie review…
Pros & Cons
Pros
Only quality materials are used.

100% cotton fleece which makes it super soft!

Made locally in Malaysia.

Looks super amazing and feels good too.

3-Panel hood makes your hood look firm.

Earplug eyelet on the kangaroo pocket.

High density plastisol used to make the vinyl stand out and last longer.

Trademarked by both Kitamen and Abstrax, meaning quality is preserved.
Cons
Softeners cannot be used as it will affect the material quality.

Cannot use hot machine wash as it will shrink.
Jump straight to the Kitamen Abstrax merchandise site now!
A Look into Kitamen X Abstrax – What is it All About?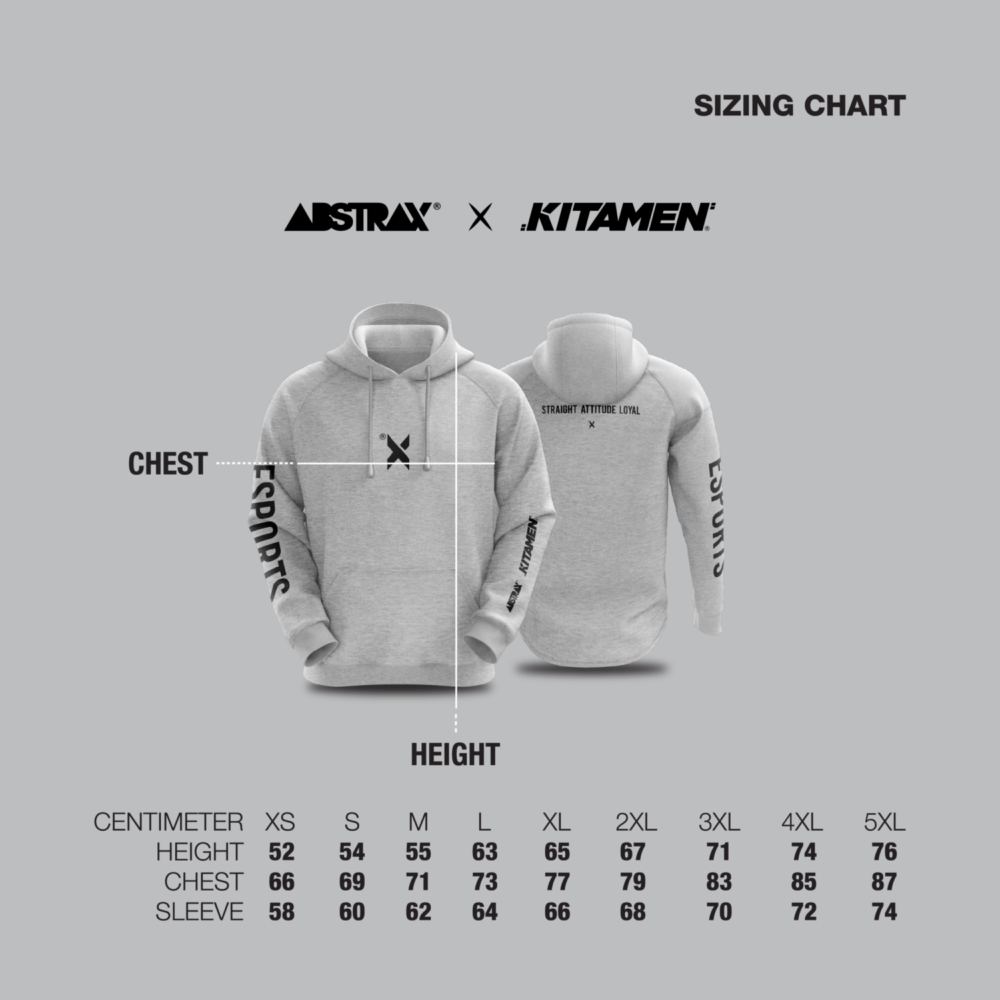 Kitamen revels in high-quality stuff.
We like to bring in new tournaments, new equipment, and when it comes to merchandises, you can bet that we want to give the best for our fellow Kitameniacs.
That's why we're collaborating Abstrax.
If you haven't heard about them yet, Abstrax is one of Malaysia's leading premium apparel company and their quality is in line with our goal hence the Kitamen x Abstrax collaboration.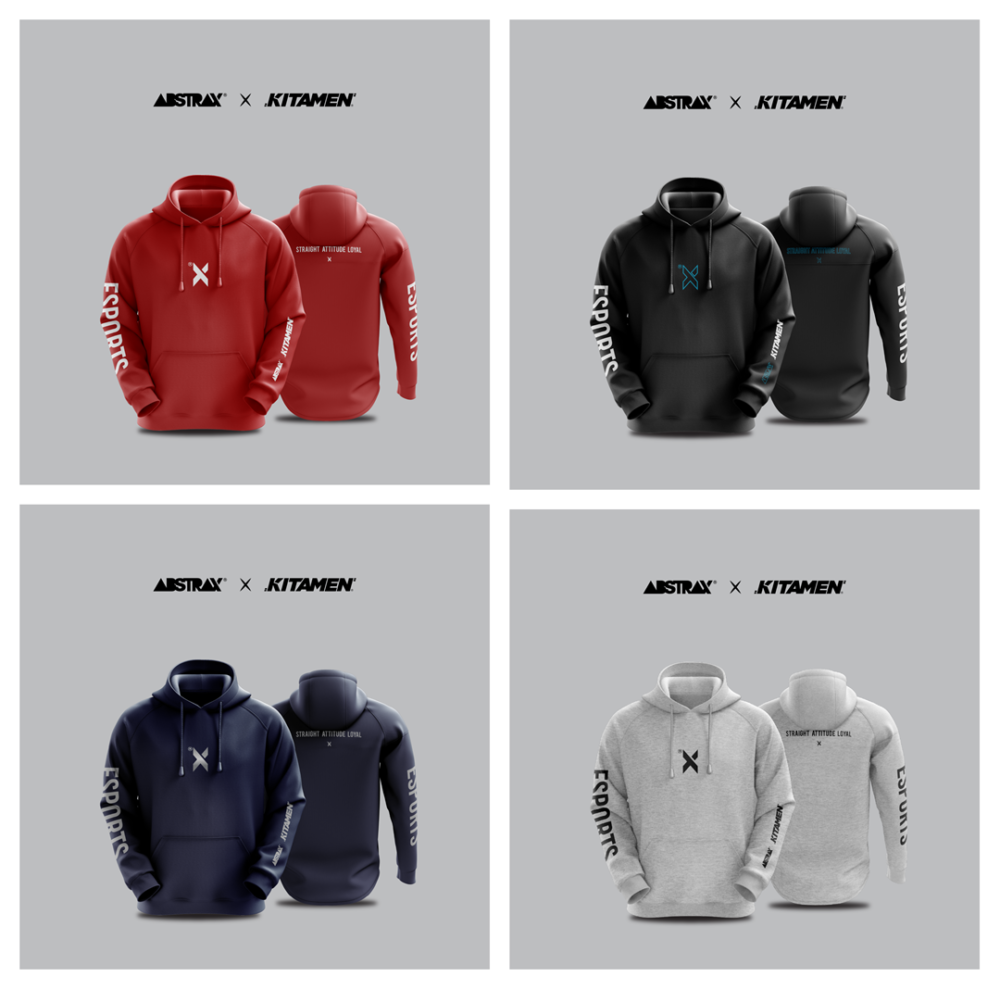 For the first edition, there are 4 colours…
Neon Black

Navy Blue

Misty Grey

Red
They can all be bought at our eCommerce website: Abstrax.kitamen.my
Oh yeah and if you're new to this, Kitameniac is a just a cool word we give to our families, friends, and supporters.
More like Blackpink has Blinks.
We're not that big but you get the idea.
Welcome to the Malaysian eSports scene, get a hoodie, unleash your potential.
With the rising number of Esports events this year, what better to attend them than with style to give out an aura like never before.

What Makes Our Hoodies Special? -Get to Know the Materials.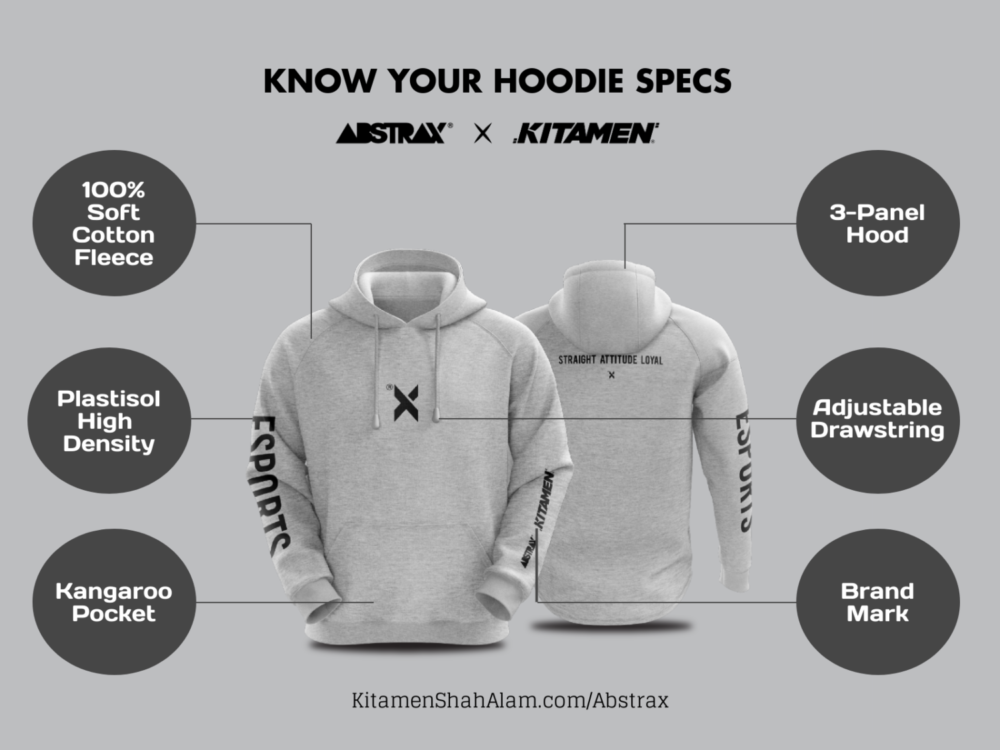 Hoodies are great, but they're even better with quality.
We've realized that to make our hoodies stand out and last longer, we needed to make sure that they're exceptional so here are some pointers on why our hoodies are to die for…
100% Cotton fleece gives it a soft feeling.

Three-Panel Hood that's firm and awesome-looking with adjustable drawstrings.

Kangaroo hand pocket with earplug eyelet.

Long-sleeve coverage.

High-density Plastisol is used for the vinyl (It's thick, expensive, and last longer!)

Made locally in Malaysia (Just behind our shop! :D)

Brand mark embroidered on the sleeves.
Because of the firm yet soft texture, it fits nicely without looking sloppy which makes it perfect for workouts or everyday activities.
Closer Look at the Hoodies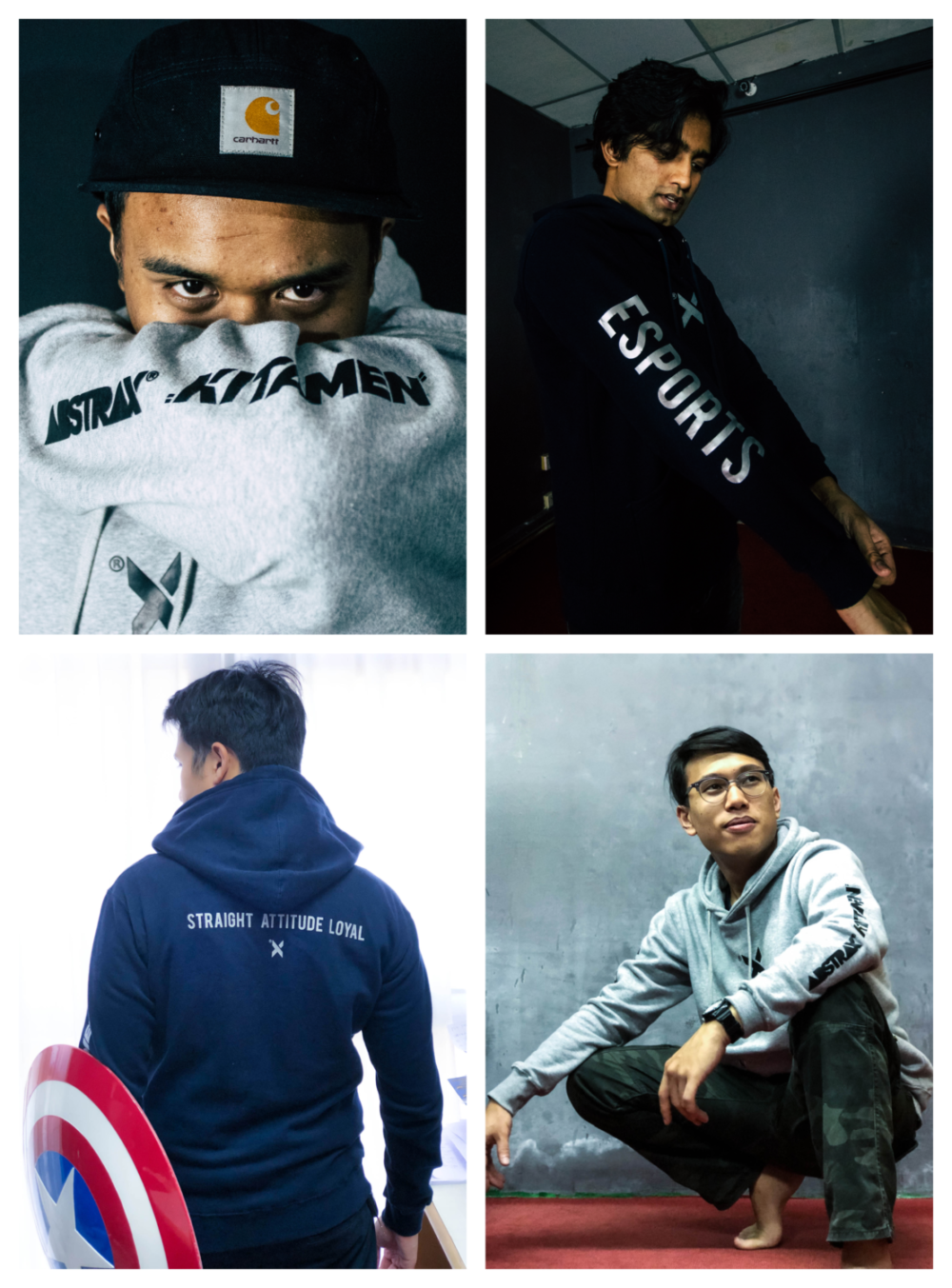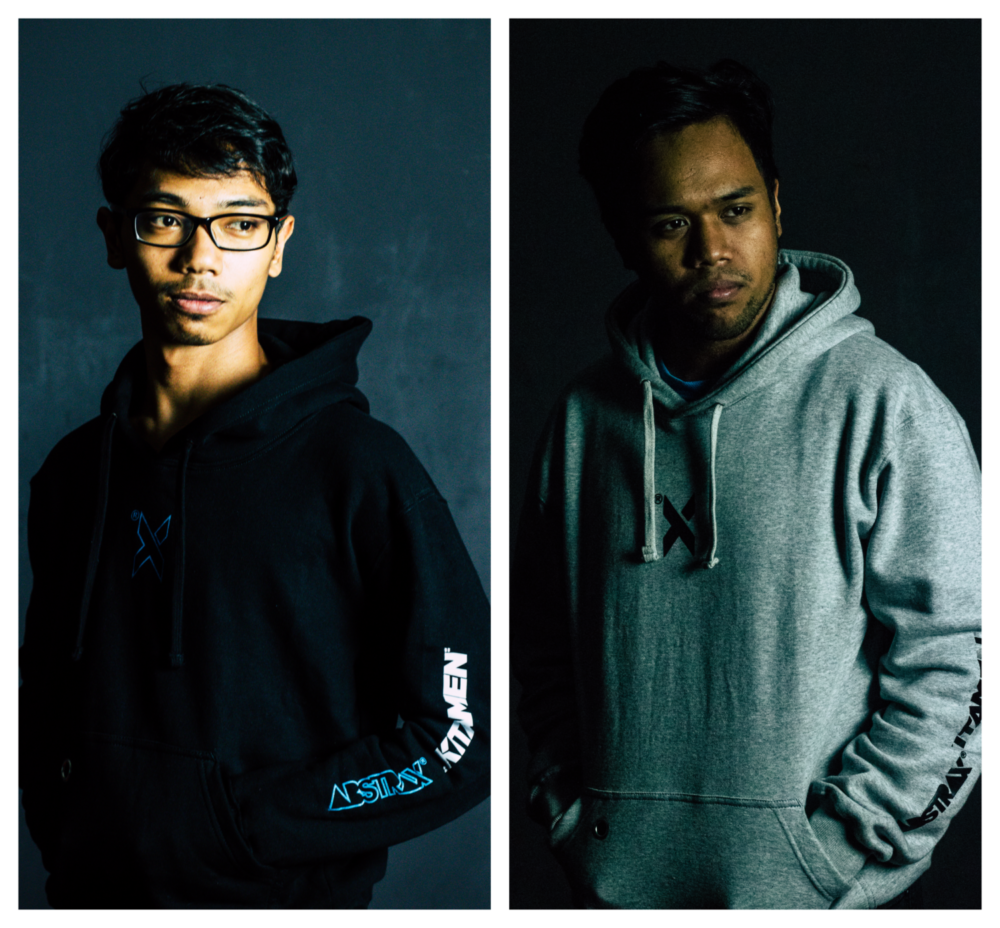 Frequently Asked Questions
Let's lay out some ground rules.
We're not perfect and so there are things we can't do and things we can, starting from…
Question #1 – How many days will it take for the hoodie to arrive?
If you're picking up the merchandise from our Kitamen Shah Alam outlet, it will only take 3 working days.
You might wonder, why can I not get it instantly right? Good question!
That's because the merchandises are made fresh upon order here in Shah Alam however if you were to choose for us to post it at your doorstep, that would take another 3-4 working days which means that it'll roughly take a week upon ordering for us to create one and post it to you.
Question #2 – How early do I need to book for the holidays?
Holiday seasons will affect postage.
This is because postage companies tend to be closed on seasonal holidays such as Raya holidays, Chinese New Year holidays, or even Christmas.
Because of the holiday season, we tend to get a lot of orders which is why we would advise you to order at least one month earlier so that your hoody will arrive in time.
Question #3 – How much is the Pos Laju fee?
We charge a flat rate of RM10 throughout Malaysia and if you're wondering, yes that includes Eastern Malaysia (Sabah and Sarawak) too.
Question #4 – Can we order for overseas shipping?
Currently, we are focusing on Malaysia only but for overseas shipping, it is still possible!
You would have to contact us via email, Facebook Messenger, Instagram, or Whatsapp and we'll do the calculations for you based on the shipping cost to your country.
Question #5 – Is there a minimum order quantity?
Nope.
Question #6 – Can we have a custom design?
For our first edition, we have no plans on doing any custom designs yet.
However we have gotten a lot of requests for this especially the part where we can add in our eSports team logo for tournaments so for the next edition, we'll definitely look into this.
Question #7 – Do I get a tracking code?
For postages, you will get a tracking code but if you are picking up at our Kitamen dojo, there are no tracking codes for that.
We will text or email you your tracking code if you are requesting for postage so be sure to fill in your details correctly for us to contact you!
Final Word
These merchandises might be the first but they're certainly not the last.
Our collaborations with Abstrax for premium 100% cotton hoodies are there for a reason – they're super comfortable, they use premium fleece fabrics, and of course, that minimal yet simplistic designs that bring out your inner champion.
Check out our eCommerce page for our wide array of comfy fleece pullover hoodies.
Thanks for reading guys, be sure to drop by any questions you may have down below and I'll be more than happy to reply 😀