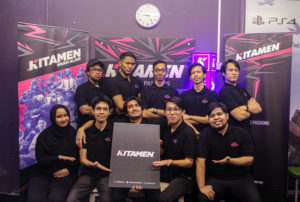 Want fast car simulation? Top eSports game station? Nintendo Switch, flight simulator, or even a Virtual Reality set that makes you forget who you are? We've got you covered.
There's a reason why we are the leading eSports hub in Shah Alam.
It's because we love gaming and technologies so much so that we keep adding and finding more to add to our arsenal of services…
F1 Racing Simulator Cockpit
Virtual Reality game set
Nintendo Switch rental
Standard Platstation rental
Live video streaming team
Cool merchandises with Abstrax
Huge eSports tournament management experience
Professional Game station Rental solution
Most of all, we love creating the best experience for events!
Focused on being the hearth for the growing local esports grassroots community, the Dojo is KITAMEN's one-stop center for console lovers.
It's a specialized PlayStation café catering not just the usual console game stations, but comes also with the Virtual Reality set, as well as the F1 Racing Simulator cockpit for total immersion.
Smaller, more concise-scaled tournaments would be the perfect fit to host at such venue and with a separate stream pod and play area, it's perfect for both local as well as online tournament segments.
Ambiance can be converted with a flick of a switch from a bright room to a much-needed cooler LED-lighted environment meant to incite gamers with more enhanced focus right where they belong.
Truly a gamer's cave for players.
More to come as the future of eSports is getting wider now in Malaysia so stay tuned for more! In the meantime, let's meet your teammates here!