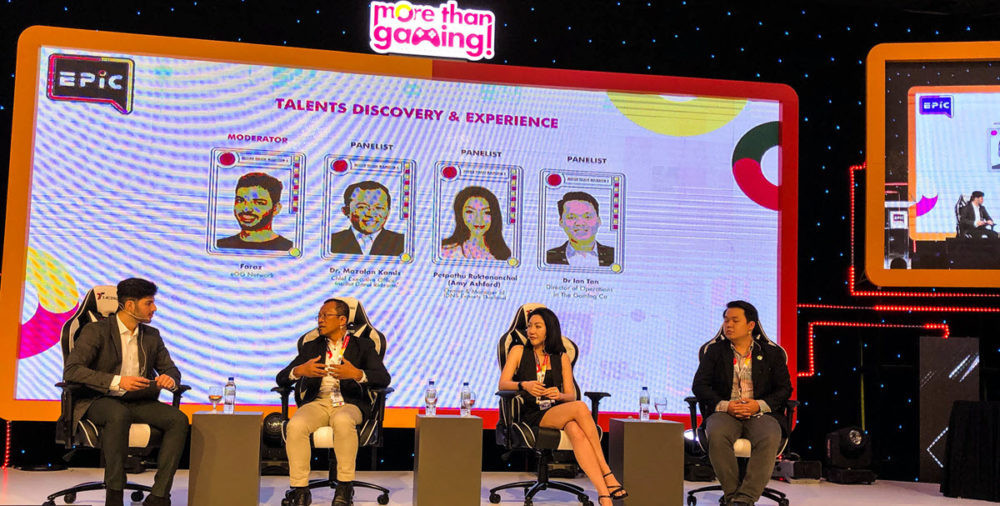 Want to know more about Malaysia's growing eSports scene?
Then this expo is definitely for you.
For the previous Perak Expo, we, along with all the other Esports enthusiasts were invited to attend and support one of the milestones in Malaysia's Esports scene.
Malaysia is finally recognizing the industry and has allocated some sum and endorsement for us to pull off the event.
Read on to know more…
What is EPIC Perak? –More Than Gaming.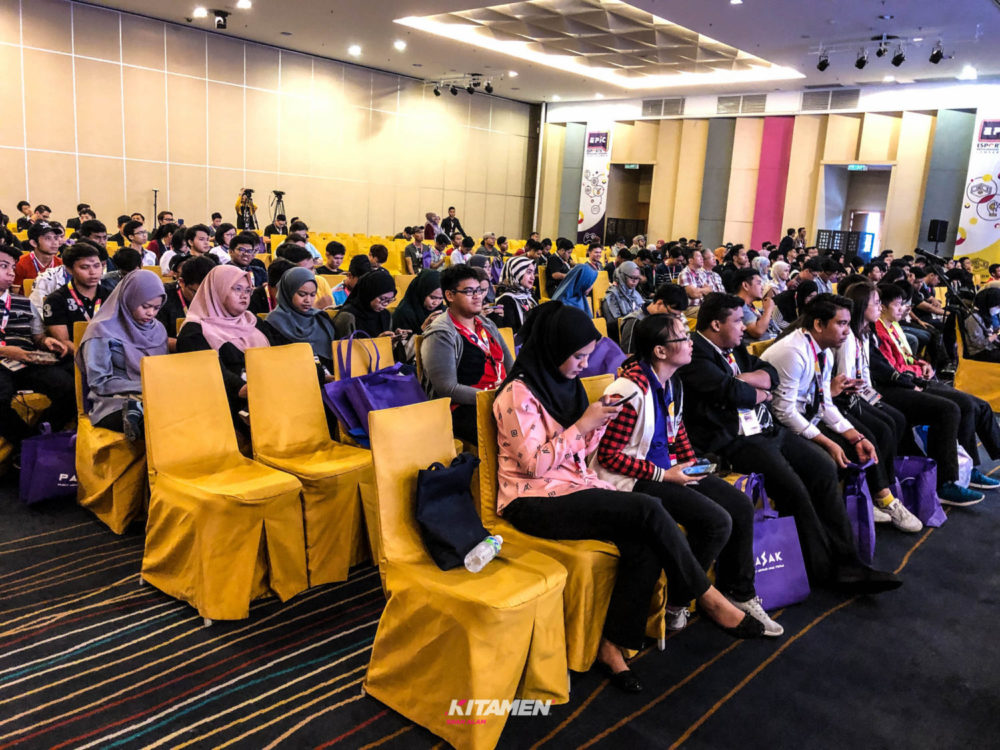 EPIC stands for Esports Professional Industry Conference.
It is the first ever Esports conference organized by Pusat Aspirasi Anak Perak (PASAK), an agency under the Perak State Government to help boom the eSports movement and spark interest among the Perak talents to take up arms and join the fun.
Over 1,000 attendees from across the nation graced the event and believe me, I was super excited to meet all of these people from different backgrounds…
Corporate brands
Professional eSports teams
Esport influencers
Universities
Media
Tech firms
Investment Firms
Although from different backgrounds, they all play a huge role in the eSports ecosystem
The event was held at the Casuarina Convention Center, Perak on 2nd March 2019 to network and discuss business strategies for achieving the success of the eSports industry, especially in Perak.
The purpose of the event is to educate Malaysians and create an understanding that Esports is not just fun and games, it's also a platform for economic growth and that we can all play a role in building it by creating a career for ourselves.
It was amazing to see plenty of opportunities provided by various organisations for visitors to find information on collectables, further studies, business opportunities, and financial aid.
The exhibition is to explore vast games merchandises, peripherals, electronic equipment, payment gateways and career interests so you can bet that there were many interesting games at the booths by various companies so we really had fun there.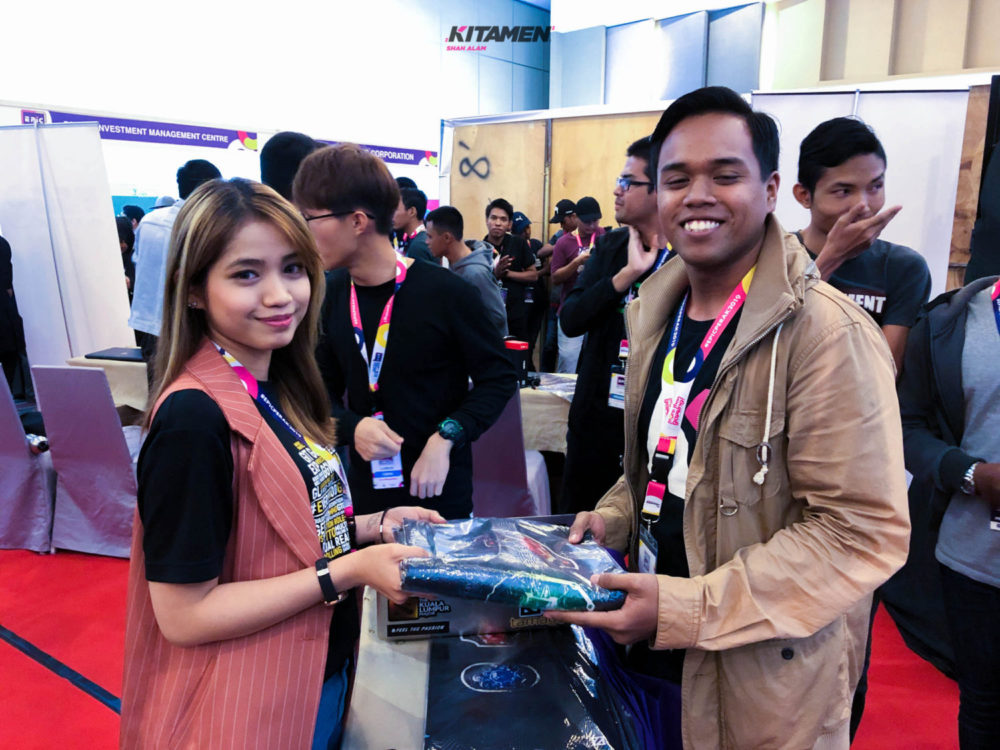 While walking at the exhibition we noticed that Egg Network's lucky draw and a contest section so we decided to check it out.
We joined the mobile legends (1 vs 1) contest and my colleague Afiq won a gaming mouse pad, oh Ya!
Majority of us Kitamen bruddas are pro players in Mobile Legends so as usual when we win we will scream, "EZ KATKA!"
What Does the Event Cover? –Things to Ponder On.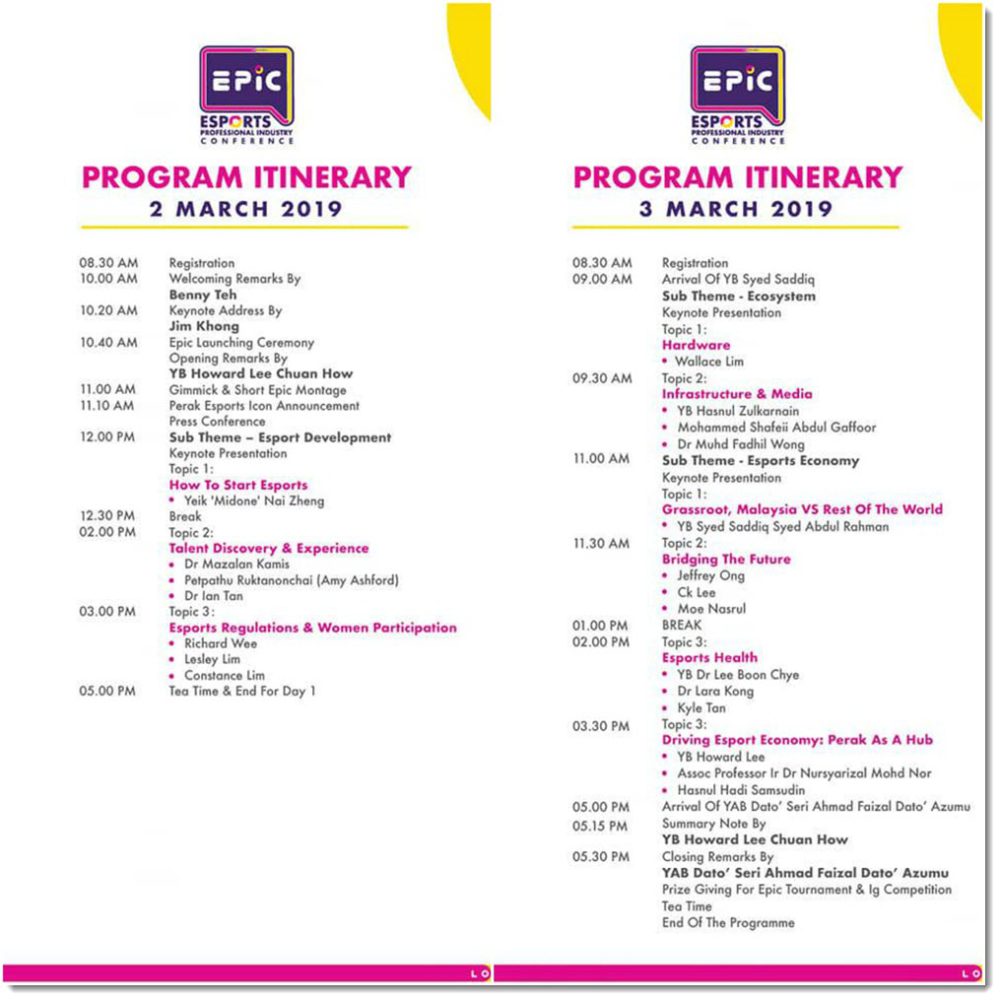 In overall, 9 topics were delivered by speakers from various Esports background.
I was super excited when a speaker (Amy Ashford) came all the way from Thailand to grace our event but my fangirl inside of me exploded when our beloved YB Syed Saddiq, Minister of Youth and Sports came to also give his ever-amazing keynote speech.
The conference covers elements of eSports from various perspectives namely education, financial, regulations, legal points, technology, tourism, branding, health and infrastructure which are all essential in building a healthy eSport ecosystem in Malaysia, or just about any developing country.
These knowledge and experience are also shared by experts and speakers appointed by Pusat Aspirasi Anak Perak (PASAK).
This is why the event theme has been given "MORE THAN GAMING" and EPIC is focusing on these three key areas…
1) Esports Development
2) Esports Ecosystem
3) Esports Economy
The topics covered during the expo include…
How to Start Esports – By MidOne
Talent Discovery and Experience – By Petpathu Ruktanonchai Amy Ashford, Dr Mazalan Kamis, and Dr Ian Tan.
Esports Regulation and Women Participation – By Constance Lim, Richard Wee, Lesley Lim
Hardware – by Wallace Lim
Infrastructure and Media – By YB Hasnul Zulkarnain, Mohammed Shafeii Abdul Gaffoor, and Dr Muhd Fadhil Wong
Grassroots, Malaysia vs Rest of the World – By YB Syed Saddiq Abdul Rahman
Bridging the Future – By Jeffrey Ong, CK Lee, and Moe Nasrul
Esport Health – By YB Dr Lee Boon Chai, Dr Lara Kong, and Kyle Tan
Driving Esports Economy, Perak as a Hub – By YB Howard Lee, Assoc Professor Ir Dr Nursyarizal Mohd Nor, an Hasnul Hadi Samsudin
It was a very immersing experience having to hear all of the issues being touched on by various experts and masters of their field.
Was There an EPIC Tournament? –Yes Of Course!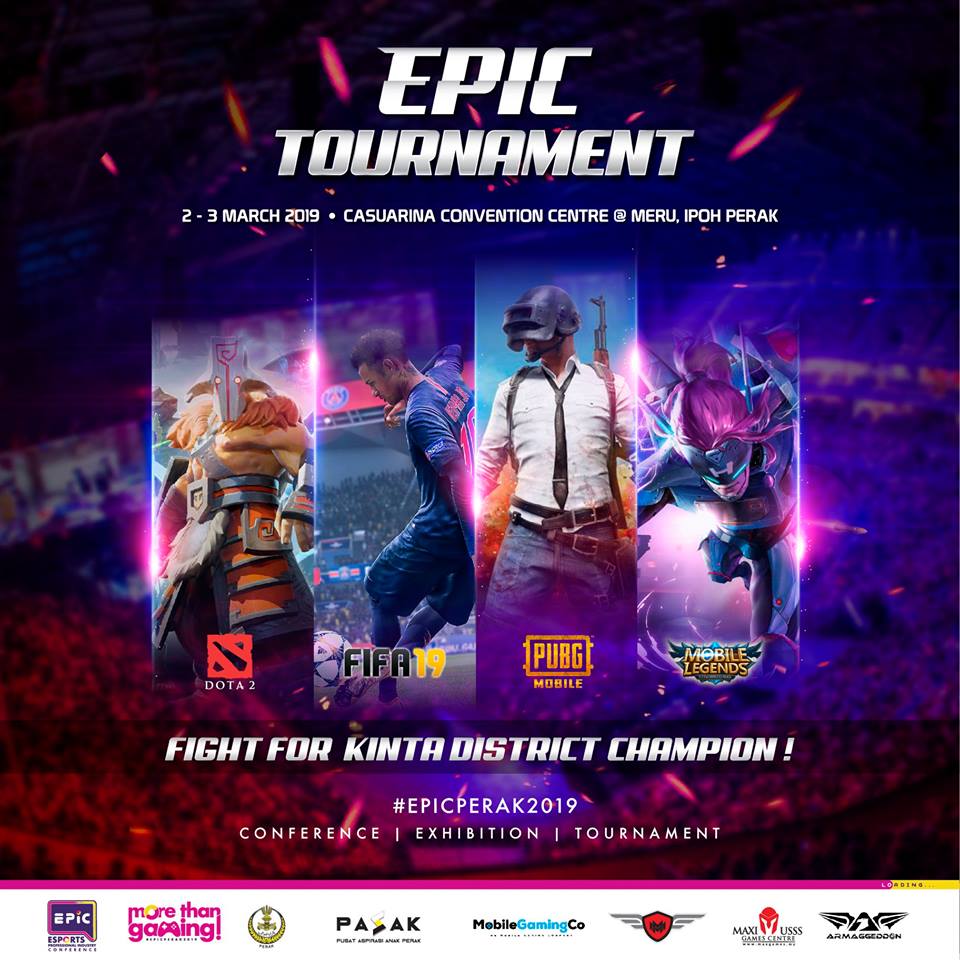 It wouldn't be eSports without a tournament.
Besides the various expos and talks, there were also tournaments there which made the event even livelier.
Because the aim was to promote all forms of eSports, various tournaments from three platforms were chosen – PC tournament, Console tournament, and Mobile Phone tournament.
And for those who missed the event, well those game titles are DOTA 2, Mobile Legends, PUBG Mobile, and the ever compulsory game in every Malaysian tournament – FIFA 19.
Since the event is about promoting Perak's developing eSports need, the winners of this expo's event will be able to represent Perak at the upcoming Perak Cyber Games which is to be held tentatively this September 2019.
Oh yeah since the event has ended, I'll disclose to you who those winners are…
DOTA 2 tournament winners
Champion – AOES ZELA
2nd Place – M&M eSports
3rd Place – Unknown Fear
4th Place – Damn Son Gaming
Mobile Legends tournament winners
Champion – Reincarnation
2nd Place – Lakalaka Reborn
3rd Place – Laka2
4th Place – Brotherhood
PUBG Mobile tournament winners
Champion – MPX
2nd Place -Junior Talent
3rd place – xenomorph squad
4th place – maximuss reborn
FIFA 19 tournament winners
Champion – Exkal kimi
2nd Place – Pokya congcodei
3rd Place – Jbyte_eidleno
4th Place – Max_umar
Top 5 Facts on Malaysia's Esports Scene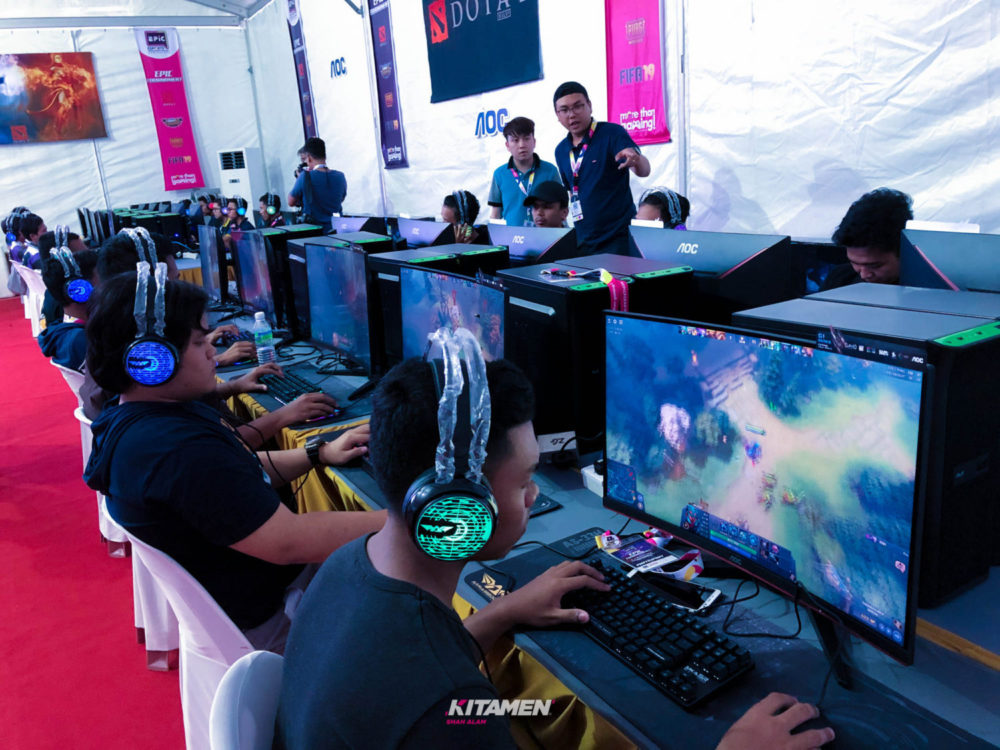 2019 is known to be the year of Esports in Malaysia.
Being in the eSports scene, we love keeping ourselves up to date with what's happening today…
Malaysian government allocated RM10 million to boost esports in Malaysia.
The budgeting is channelled to Malaysia Digital Economy Corporation (MDEC) and will be used exponentially to foster the growth of esports and game development sectors.
It is estimated that there are about 2.4 million esports enthusiasts in Malaysia alone.
Southeast Asia, the fastest-growing eSports market in the world, has more than 9.5 million eSports enthusiasts; a number that is forecasted to double by 2019.
Malaysia has ranked number 21 in global game revenue estimates for 2017 with US$587 million, ahead of Netherlands and Poland.
There is no doubt that a lot of companies are going to benefit from this rising trend.
By grabbing this opportunity, it can definitely give us an edge on networking to propelling ourselves to managing more events in the mix platforms.
My Last Words
---
Though big esports events are always attention-grabbing, let us not forget that it is the huge routine events such as the conference, exhibition and tournament that help build the fundamentals and communities of eSport itself.
There are definitely more to esports than playing games.
It is a large industry that can potentially provide high-quality jobs for the youth including software developers and engineers, graphic designers and illustrators, even eSports marketing and advertisers.
The budget announcement gives legitimacy and empowerment to the youth to pursue their passion even further for eSports and entertainment and the games industry will be a TOP industry too as eSports is a growing part of the ecosystem.
This will give Malaysia the opportunity to groom new talents in the ecosystem that can become champions in eSports and in the creation of games for the world market in the near future.
This is a great start in making Malaysia the eSports hub of the region which will be part of the overall high technology games industry.
With such initiatives and events being done in Malaysia, it's hard to deny that in just a few years' time, our eSports scene will grow strong and proud – Perhaps just as we are proud of our national badminton team and maybe someday, we can be proud of our national eSports team.
"Ayuh Malaysian Gamerz"
Thanks for reading guys and don't forget to check out our services page to know more about what we do.